We don't take chances when it comes to storing fuel, especially for the aviation industry. As a reputable aviation fuel tank manufacturer, we build all our aviation tanks with unwavering quality and meticulous attention to detail. Designed to comply with all current Australian safety regulations, Duntec aviation fuel tanks also have several distinguishing features that make them highly functional, durable and reliable for years to come. Whether you need Avgas or Jet-A1, our aviation tanks have you covered.
Aviation Fuel Storage Tanks Tailored to Your Specific Requirements
Getting the right aviation fuel tank in the right size with the right combination of dispensing systems is a complicated business, but we have the experience to walk you through all of your options. Whether you're located on a remote farm or a busy airstrip at a mining plant, you can be confident that Duntec will supply the appropriate aviation fuel storage, aircraft fuel tank and management systems for your business.
Keeping the risk of aviation fuel contamination to a minimum
The main purpose of an aviation fuel storage tank is to prevent contamination. To avoid this, any part of the aviation tank that could come into contact with avgas or other types of fuel must be made of stainless steel. The inner tank of our aviation tanks, including fittings, are entirely made of stainless steel. Not only does this meet all safety requirements and is extremely durable, but it also gives you complete peace of mind about the aviation fuel tank's overall operational integrity.
We provide complete refuelling solutions tailored to the aviation industry, including:
- Turn-key rural and station systems with integrated 12V Solar and 240V pumping options. 5000 and 10,000-litre options available.
- Light aircraft fuel tank systems with 24/7 retail payment terminals. 5000 – 55,000 litre options.
- Stainless steel inner aviation fuel tank with stainless steel floating suction.
- Transportable 12,24V and diesel-powered pump sets.
- Available in Fireguard 2085 construction for commercial areas without fire hydrants.
- All standard with low-point sampling kits.
Talk to us today about how we can help your aviation business with its fuel requirements.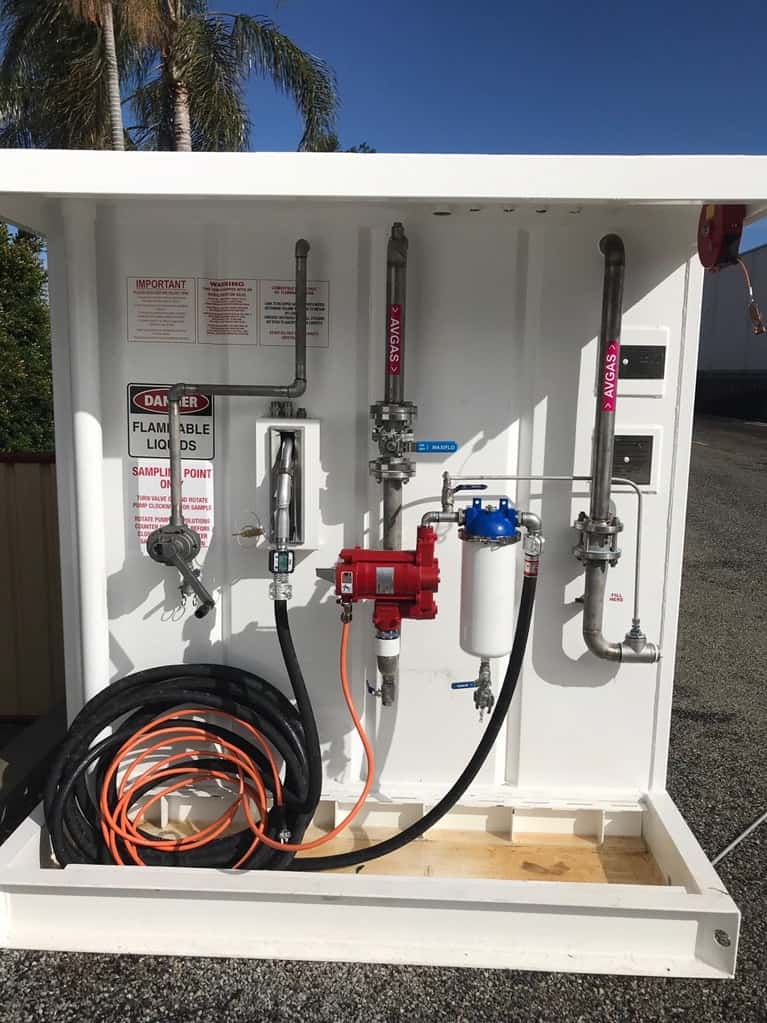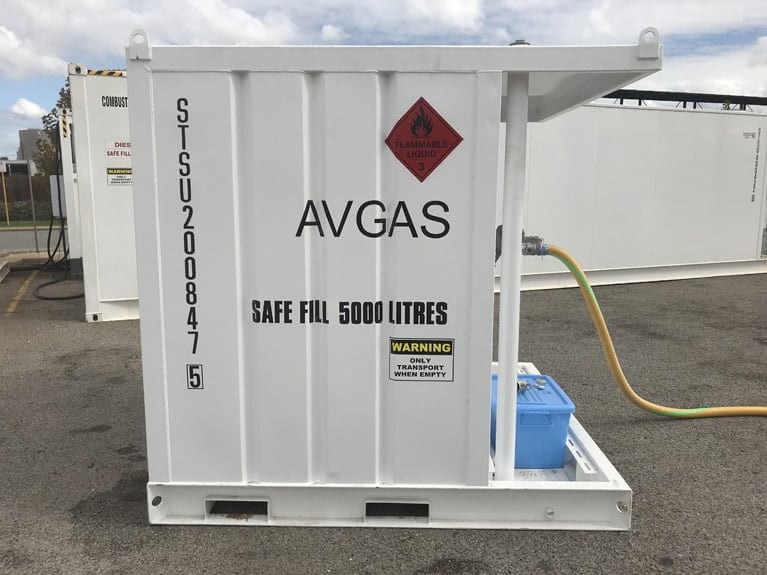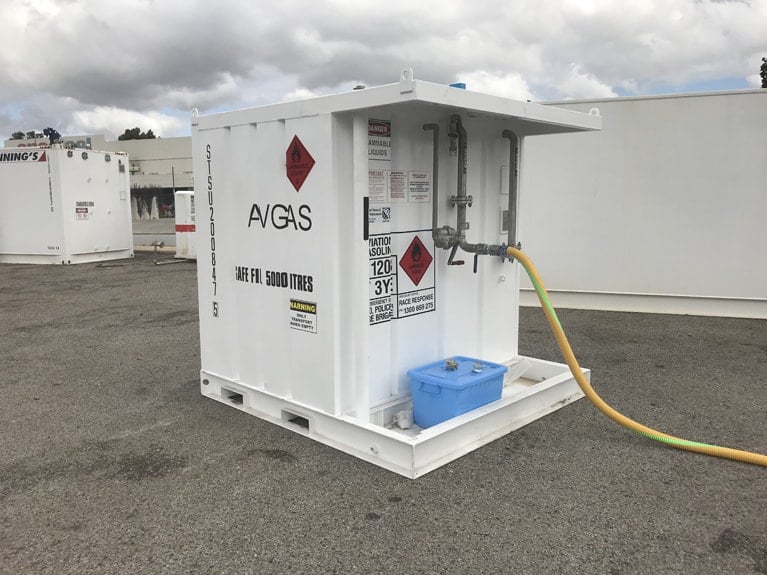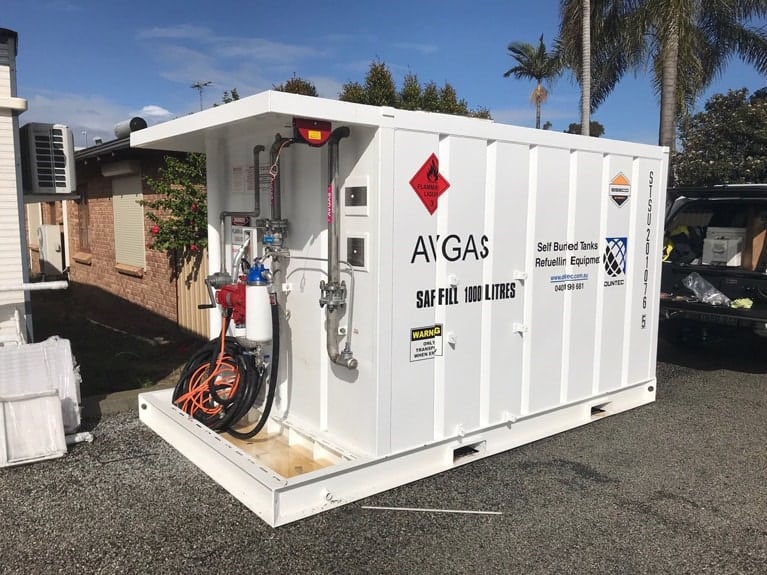 AV-SERIES FEATURES
Self bunded with internal tank and external bund.
Stainless Steel internal tank.
Stainless Steel Floating Suction.
Slopping floor with Low point dish for Fuel sampling.
Suction foot valve, overfill protection and overfill alarm
Fork lift sleeves for ease of transport
1 x Access manholes with internal ladder for maintenance.
Bunded pump bay. Lockable on AV12 – AV68
Internal ladder for access
Air breather vents for free venting.
Containment compartment (internal bund) with emergency vent.
Calibrated contents dip stick.
Interstitial space dip stick.
Unit sand blasted to AS2.5
Paint coating to C5-1 harsh environment standard, three coats Hempel paint.
Statutory signage to suit end use location.
Tank manufacture and compliance plates.
Designed To: AS1940
Built To: AS1692, Cat3
MODEL NUMBERS & DIMENSIONS
Model
Number
Gross Capacity
Litres
Standard SFL
(1)
Length
(mm)
Width
(mm)
Height
(mm)
Tare
(Kg)
AV05
6,250
5,000
2350
2090
2536
2500
AV10
10,000
9,500
2820
2090
2536
3800
AV12
11,700
10,530
2991
2438
2896
4910
AV20
20,000
18,000
2991
2438
2896
4748
AV30
30,500
27,500
6058
2438
2896
7934
AV38
38,000
34,200
6058
2438
2896
8037
AV68
68,000
61,200
12192
2438
2896
14100