Gas and Fuel Supply for Fuel Retailing
Retail businesses, especially ones located in rural off-grid areas, often need a steady fuel supply for their operations. Duntec's self bunded fuel tanks are the perfect solution for fuel retailing locations that need to provide a fuel supply for their business or for customers to fill up. With inbuilt payment terminals on our petrol storage tanks, you can leave them unmanned without compromising your fuel supply. We provide complete turn-key refuelling solutions tailored to the fuel retailing industry. Talk to us today about how we can help your fuel retailing business with its fuel supply requirements.
Split compartment and product self bunded tanks. 30,000 – 110,000 litres diesel/AdBlue and 10,000 – 55,000 litre motor spirits.
Fully integrated transponder technologies NMI approved dispensing equipment with retail display and nozzle holders on each side of tank (1,2,4 and 5 hose models available).
Built-in factory fitted red jacket submersible turbine and unloading pumps. Cuts down onsite installation costs.
Auto-tank gauging with remote access via PC or smart phone.
Fireguard 2085 ULP tanks with integrated retail dispensing equipment.
24/7 outdoor payment terminals.
Factory fitted Ex rated electrical boards and wiring.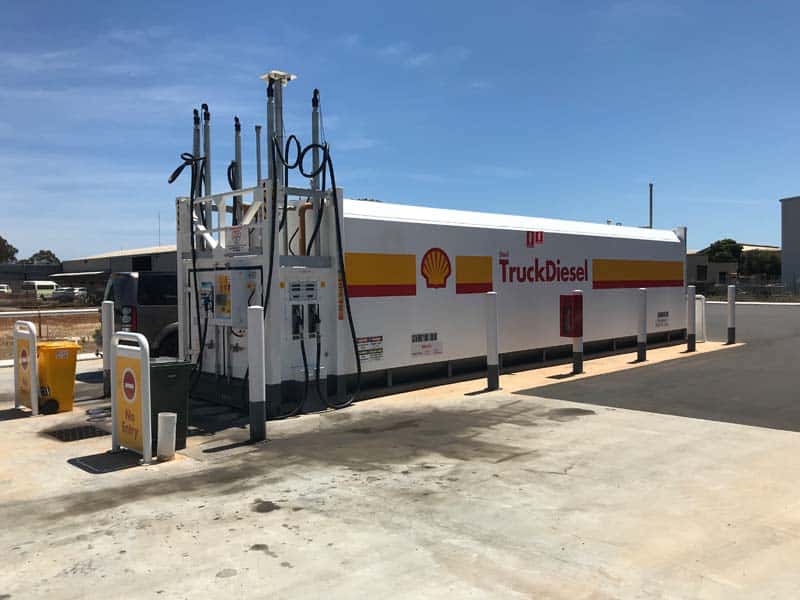 We are proudly family owned business with over 55 years experience. We are proud to provide superior service and products to the Australian fuel industry.